Demag DRS walking wheel box spot made in China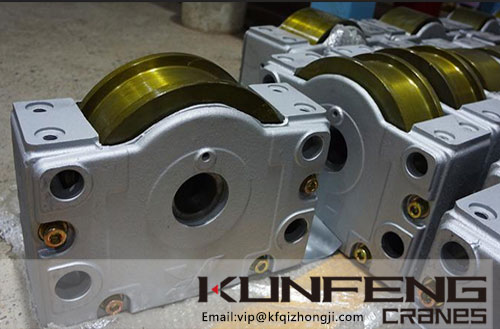 Demag walking wheel box
made in stock, Kunfeng Heavy Industry produced wheel box, excellent quality, complete model, our walking wheel box can bear up to 40 tons. The DRS walking wheel box is a versatile, compact walking wheel box that is easy to use, flexible and has excellent performance. It has a wide load range from 2.75 tons to 40 tons. The scientific series division (DRS112~DRS500) helps. Make sure that every application has a matching DRS wheelbox.
Features and benefits:
· Easy installation and maintenance, and easy connection with structure;
·The wheel material is ductile iron with various diameters, excellent performance and strong carrying capacityp;
·The starting and braking performance is good, and the track is not damaged;
·Laser calibration system eliminates various mounting errors during wheel mounting;
·The walking wheel tread can be specially hardened to meet the high speed requirements;
·The wheel box body is sturdy and durable, effectively protecting the walking wheel and bearing arrangement;
·Technical innovations such as Demag's patented torsion brackets, bearing arrangements, cabinet design, etc;
·Good ground clearance.