Green Clean Room Crane
While carrying out material handling operation in a "white room" in electronic workshops, precision instrument workshops, pharmaceutical workshops, food workshops, etc.,KUNFENG clean room cranes can meet the strictest hygienic requirements and dust-free operation while performing lifting functions.
In production, we make strict selection of materials and parts to ensure products to be free of contaminations. Made of stainless steel, using wire ropes and conveyor belts made from fiber, and designed to be a fully enclosed drive structure, the electric hoists have smooth surfaces, which makes it possible to clean dust at any time. With the clean hoisting equipment, customers can easily minimize the risk of contamination.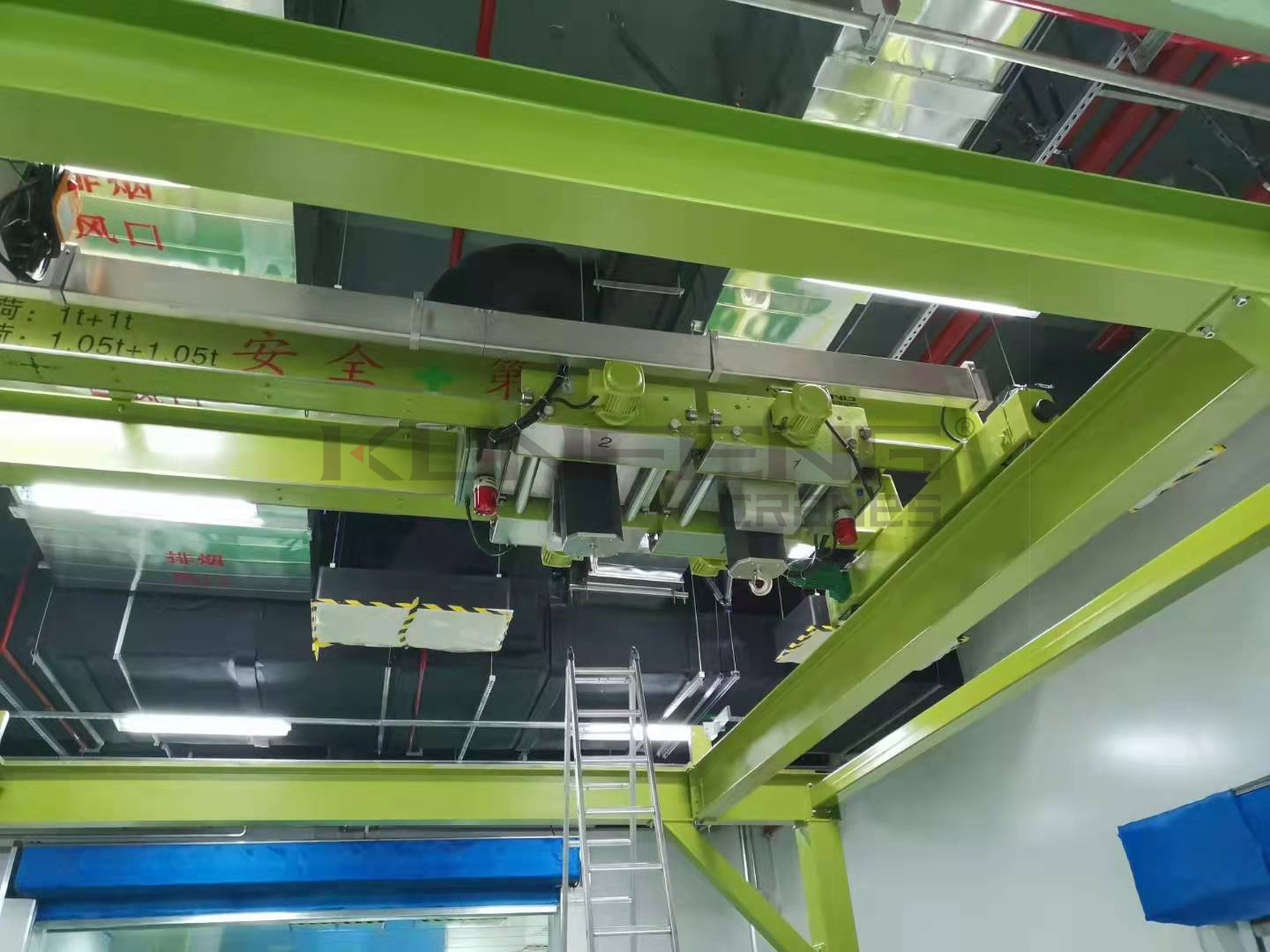 Lifting Capacity 50kg-32,000kg
Features and Advantages
1、Frame
Fully sealed design, special surface treatment and special anti-static coating not only can effectively prevent it from producing pollution particles, but also can prevent adsorbing external pollution particles.
2、Drum
Stainless steel casing can effectively prevent metallic materials from polluting the environment caused by corrosion. The rope groove is deepened, which can make the hoisting rope orderly arrange in the rope groove without rope guide, to avoid causing pollution by friction of hoisting rope and rope guide.
3、Wheels group
Fully sealed design , stainless steel wheel, and other parts of high surface rust prevention can effectively prevent corrosion and pollution, self-lubricating of metallic materials; self-lubricating and full sealed bearing can avoid lubrication pollution.
4、Hoisting drive
Fully sealed and high sealed reducer is free from oil leakage and pollution; high protection grade motor without fan and double sealed brake can effectively prevent the motor from producing polluting particles.
5、Hoisting rope
High-strength fiber rope, with high strength and good flexibility, will not cause wearing on the rolls and pulleys.Without lubrication and pollution.
6、Electric control cabinet
Electrical control system is designed at IP65 protection grade and the metal parts are made of stainless steel materials.