Single-beam clean crane is a kind of crane equipment
Single-beam clean crane
is a kind of crane equipment that is clean and dust-proof. Clean electric hoist crane is a kind of crane suitable for dust-free environment. Single-beam clean crane such as bioengineering, medical equipment, food, microelectronics, photovoltaic , injection molding, lithium battery, semiconductor and other industries, the use of clean and clean cranes has played a protective role in some production workshops with high requirements. Requirements for cleanliness. The lifting equipment in the clean room includes clean cranes, clean cantilever cranes, clean turning machines, clean KBK cranes, clean intelligent cranes, clean mobile gantry cranes and other types of lifting equipment! Clean driving is used in food processing, special materials, pharmaceuticals, microelectronics, medical, aerospace, military, lithium batteries, photovoltaics, thin films, biopharmaceuticals and other industries. Some production links require a clean and dust-free production environment.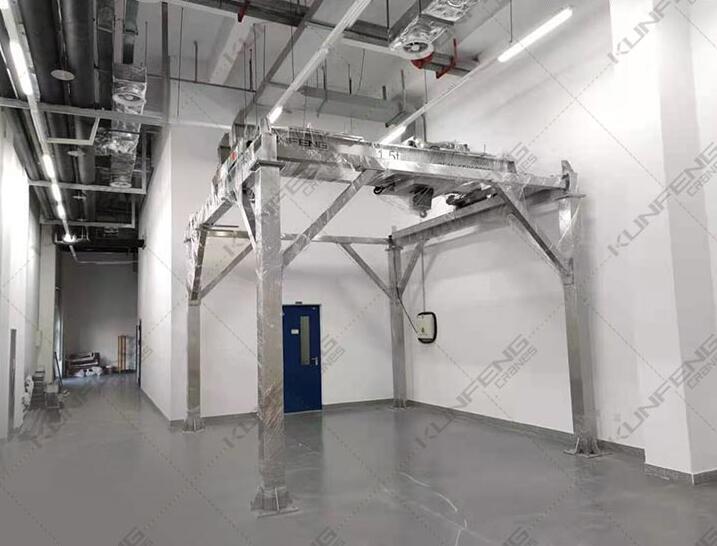 The single-beam clean crane is equipped with a hoisting mechanism on the upper part of the trolley, and a set of independent driving devices when the single hook is used. When there are two main hooks and auxiliary hooks, two sets of hoisting mechanisms that are independently driven are installed.
Cleanliness and hygiene are the be-all and end-all – whether in the food, semiconductor, pharmaceutical or aerospace industry. Especially in clean and ultra-clean rooms, each microscopic particle of dirt is measured. Different regulations set limits for maximum particle pollution of the volume. KUNFENG clean room cranes meet all the requirements.
Each clean room crane (suspension crane, trolley, etc.) is individually tuned to the customer's application to achieve maximum lifting height particularly in low rooms, which is generally the case.
The choice of the right component surfaces, lubricants, avoidance of abrasion and evaporations are only some of the aspects we take into consideration in order to develop and install an adequate crane system (clean room crane, suspension crane, trolley etc.) which is exactly tailored to your application.