The good manufacturer of electric hoist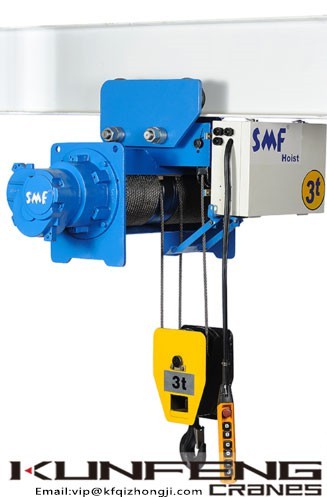 SMF series E
lectric Hoists
combine safety, durability and portability to operate in light duty commercial and industrial applications. The die cast Aluminum housing keeps the hoist lightweight and easily portable. All models incorporate overload protection mechanisms that prevents the hoist from lifting damaging loads. The magnetic disk brake increases safety by ensuring rapid stops and securing the load and the maintenance-free gear train incorporates a sealed oil bath, eliminating maintenance. SMF Series electric hoist is available in 1/8 ton and 1/4 ton capacities with standard lifts of 10, 15, and 20 feet (custom lifts available).
Motor with simple pushbutton on/off/raise/lower control. Built-in thermal protection prevents overheating, even during the most strenuous applications.
It's almost hard to believe that something this durable can also operate so smoothly! The rugged gears are constructed of light duty . steel for exceptional strength, while the gearbox comes fully lubricated with industrial grease for silky-smooth operation.
Easily operate the hoist while remaining a safe distance away,stopping or starting the lift or descent using the hand-held rocker-style control.
It has holds the Load, Even Without Power. Should the power happen to go out right in the middle of a lift or drop, the effects of a couple hundred pound load toppling straight to the ground could be tragic. But you can breathe easy knowing SMF hoist has a built-in safety braking mechanism that will continue to hold a load, even if all power is lost. The dual brake system utilizes an electric brake system, plus the certainty of a mechanical brake whenever you need it — with or without power — ensuring that you maintain complete stopping control in every situation.
The hoist is designed to seal out dirt, dust, water and other harmful corrosives to keep it running smoothly and extend working life. reducing the safety risks in inclement conditions.