| 1 ton Customized Jib Crane Price
What is Jib Crane?Jib crane, also called slewing crane, swing crane, cantilever crane.A jib crane is a type of material handling equipment that consists of a horizontal arm (jib) mounted to a pillar o
What is Jib Crane?
Jib crane, also called slewing crane, swing crane, cantilever crane.
A jib crane is a type of material handling equipment that consists of a horizontal arm (jib) mounted to a pillar or wall, providing a rotational motion. The arm is designed to support a hoist or other lifting devices, enabling the crane to reach and move loads within a designated work area. Jib cranes come in various configurations, including wall-mounted, floor-mounted, and articulating (or knuckle) jib cranes, each tailored to specific application requirements.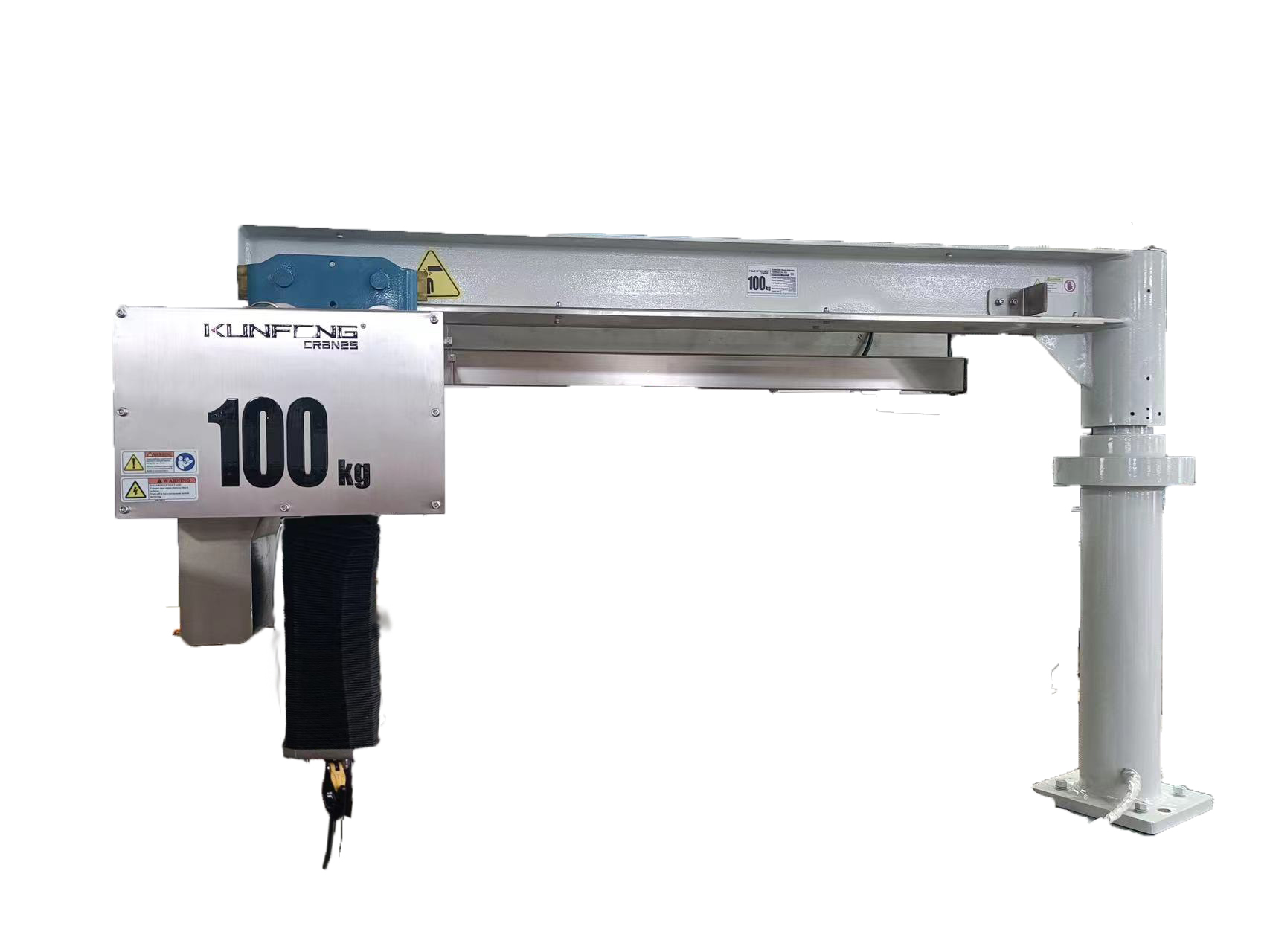 Why Jib Cranes?
• Versatility
Light simple design makes jib crane available in a wide range of capacities and configurations, making them suitable for lifting and moving objects of various sizes and weights. They can be utilized in manufacturing facilities, warehouses, construction sites, and even outdoor environments, offering flexibility and adaptability across industries.
• Ergonomic design
Slewing jib cranes offer exceptional precision and speed when it comes to load positioning. Unlike overhead cranes that require extensive structural support, jib cranes can be mounted on existing pillars or walls, minimizing the need for additional floor space. Their rotational motion enables them to cover a specific work area without obstructing other operations or creating logistical challenges.
• Precise and Quick Load Positioning
This precise load control enhances safety, prevents damage to goods, and increases productivity by reducing the time required for load positioning. Cantilever jib cranes are particularly beneficial in assembly lines, production cells, and workstations where accurate and rapid load placement is crucial.
Parameters:
SWL: 100kg, 500kg, 1000kg, 5000kg
Arm Length: 3m (bespoke sizes on request)
Column height: 3m (bespoke sizes on request)
270 degree or 360 degree manual slew
Hoist sold separately (see crane hoist)
Optional Fixing Bolts
Optional electrics and festoon cable system for electric hoist as standard c/w isolator
How to choose a suitable jib crane
When planning to purchase a jib crane, it is important to take into account certain factors. KUNFENG Cranes, is an OEM crane factory that provides tailored solutions to customers worldwide. With over 15 years of experience, we can cater to your specific needs in various applications. Our high-quality jib crane can help you work efficiently, whether you need it for harsh conditions or cleanrooms, indoors or outdoors.
Before the design, there are some important details that we need to confirm:
- Capacity:
- Lifting Height:
- Boom Length:
- Boom Rotation:
- Supply Voltage:
Moreover, there is No MOQ requirement for a customized crane.
Only the specific requirement is settled, our designing will help your work smoothly and the quotation will be more accurate. If still puzzled about your need, feel free to contact us today to learn more!