| Buyer Guide for Light Cranes: Mobile Gantry, Jib & Workstation Cranes
Introduction:When it comes to choosing the right light lifting equipment for your industrial needs, several factors come into play. Mobile gantry cranes, jib cranes, and workstation cranes are popular
Introduction:
When it comes to choosing the right light lifting equipment for your industrial needs, several factors come into play. Mobile gantry cranes, jib cranes, and workstation cranes are popular options that cater to different requirements. In this article, we will help you navigate through the decision-making process and highlight the benefits of each type to assist you in finding the perfect lifting solution.
Mobile Gantry Cranes: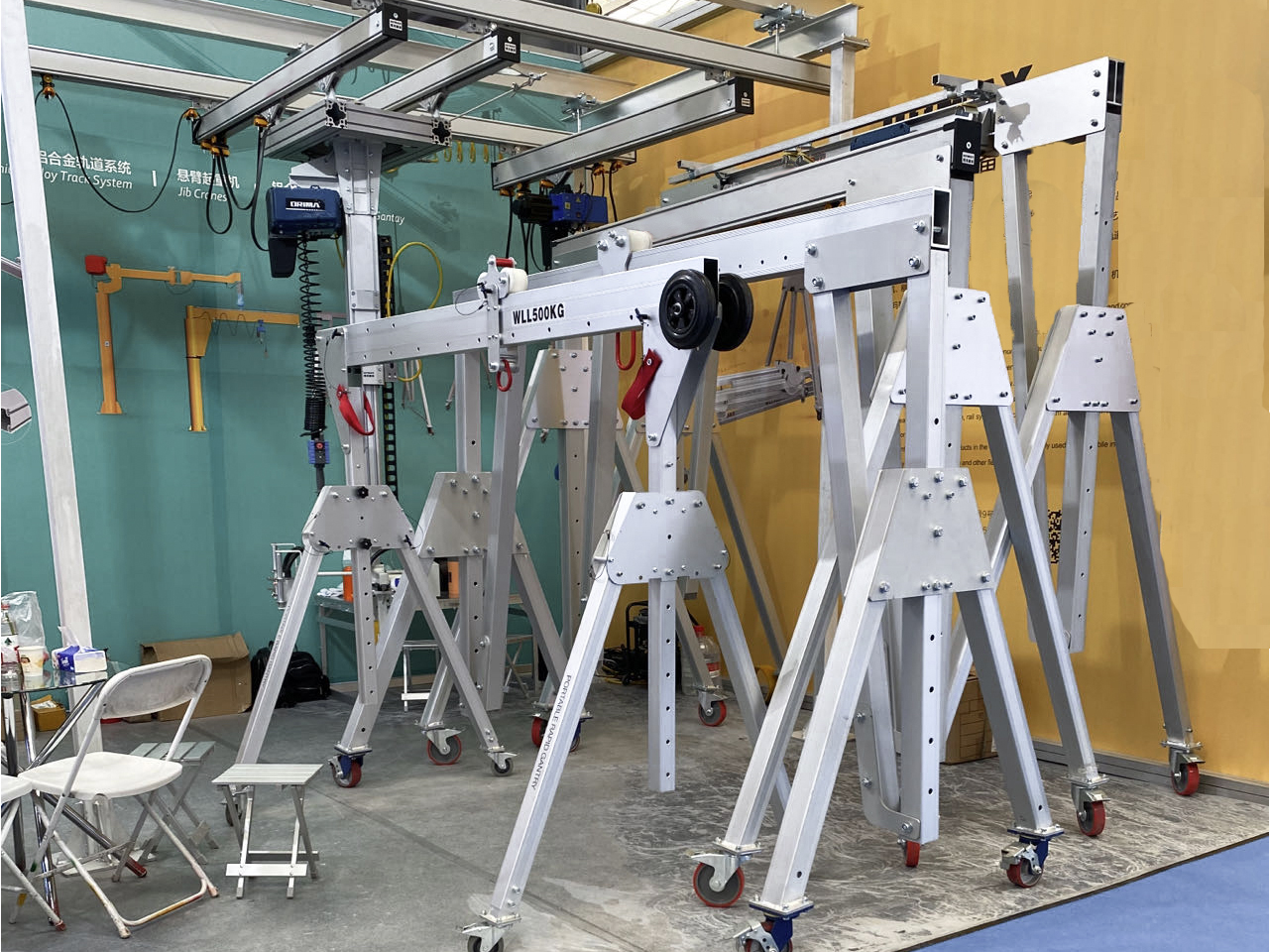 Mobile gantry crane, also known as portable gantry crane, small gantry crane, walking or trackless gantry crane, is a kind of mobile light lifting equipment.
Portable gantry cranes, can be divided into adjustable and fixed legs. These cranes feature adjustable heights and spans, making them suitable for different load sizes and operational environments. Mobile gantry cranes offer exceptional versatility and mobility. They excel in applications that require heavy lifting and material handling in limited space. Meanwhile, provide unmatched flexibility and ease of transportation, making them ideal for industries that require frequent repositioning and multi-location operations.
Aluminum and stainless steel are common materials for portable gantry crane, which allows them suit for cleanroom lifting.
Workstation Cranes:
Workstation cranes, also known as freestanding crane or overhead cranes, are designed to cover a specific area within a facility.
They offer extensive coverage along a fixed track system, enabling efficient lifting and movement of loads within a defined workspace. Workstation cranes are commonly used in manufacturing plants, warehouses, and assembly lines where a continuous flow of materials is required. If you seek a lifting solution that optimizes floor space and provides seamless material handling within a specific area, workstation cranes available at KUNFENG Cranes can be the answer.
Jib Cranes: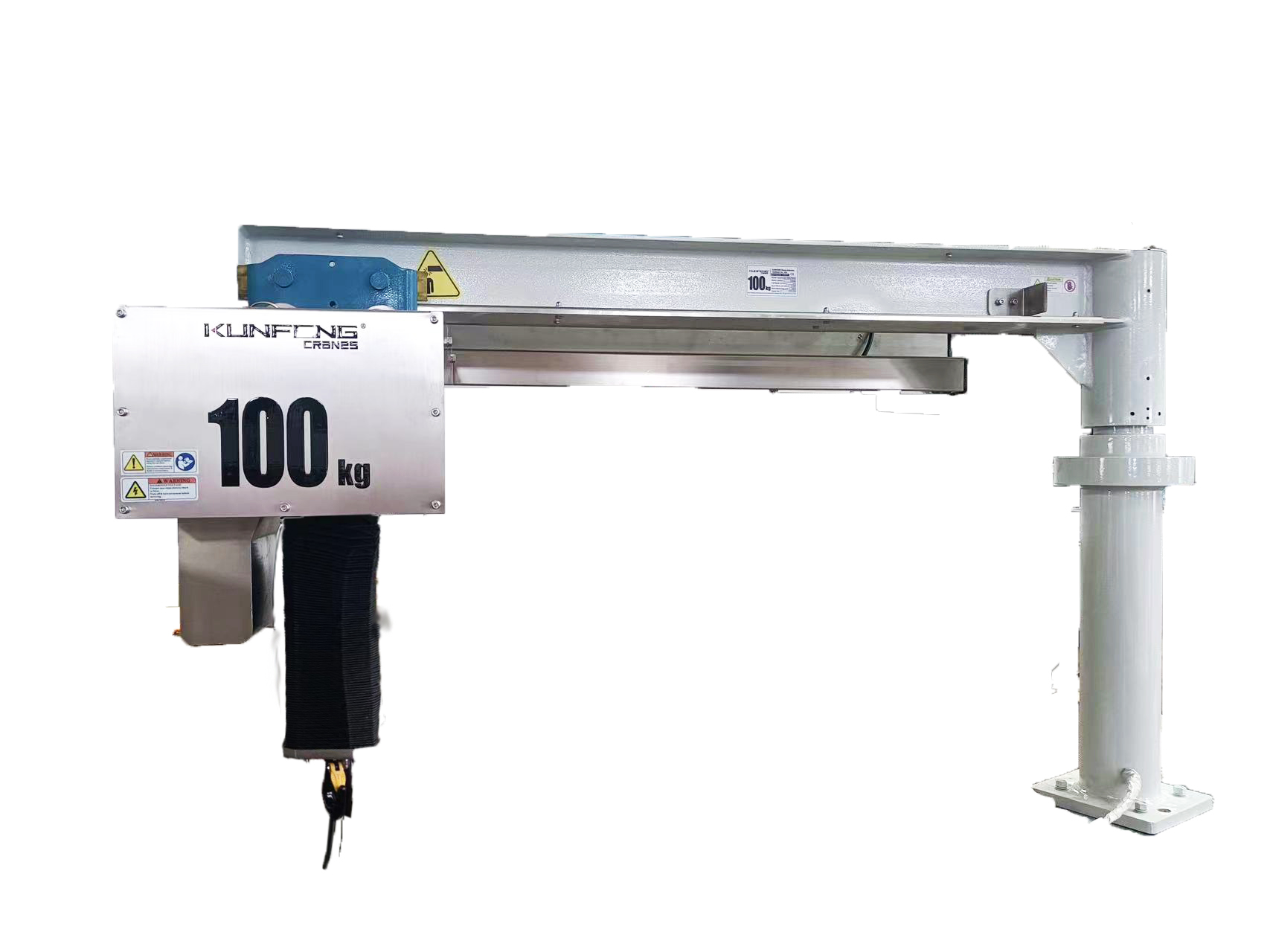 Jib cranes, also called cantilever cranes, slewing jib cranes, are designed for localized lifting tasks within a specific area. They consist of a vertical mast and a rotating boom, which allows for 360-degree coverage in a confined space. Jib cranes are especially useful for repetitive and precise lifting movements. They are often preferred in workshops, assembly lines, and manufacturing facilities where there is a need for targeted lifting operations.
In addition, jib cranes can be installed in another equipment to help lifting work.
Conclusion:
Choosing the right lifting equipment depends on your specific needs and requirements. Mobile gantry cranes, jib cranes, and workstation cranes each offer unique advantages that cater to different operational scenarios. By understanding the benefits of each type and evaluating your lifting demands, you can make an informed decision. Contact us to explore a wide range of lifting solutions and find the perfect fit for your industrial lifting needs.
Contact KUNFENG Cranes to find an optimum portable gantry crane for your business!