| SEMI S2 Jib Crane Manufacturer in China
As an ISO 9001 Certified factory in China, we have a variety certificates. For example, our cleanroom jib crane (KF2206071) has been certified by semiconductor industry.IntroductionIn cleanroom enviro
As an ISO 9001 Certified factory in China, we have a variety certificates. For example, our cleanroom jib crane (KF2206071) has been certified by semiconductor industry.
Introduction
In cleanroom environments, where maintaining strict cleanliness and adherence to industry standards is paramount, having the right lifting equipment is crucial. We are proud to introduce the cleanroom jib crane, a cutting-edge solution designed to meet the unique demands of controlled environments. Certified by the renowned TUV organization under the SEMI S2 standard, this crane offers exceptional performance, reliability, and cleanliness for a wide range of cleanroom applications.
• Certification and Compliance:
SEMI S2 refers to a safety guideline for semiconductor manufacturing equipment. It defines the minimum safety requirements for semiconductor products. The semiconductor equipment industry developed the guidelines to ensure safety standards worldwide.
The cleanroom Jib Crane sets itself apart by being certified by the prestigious TUV organization under the SEMI S2 standard. Compliance with SEMI S2 guarantees that our cleanroom jib crane meets the regulatory expectations of the semiconductor and electronics industries.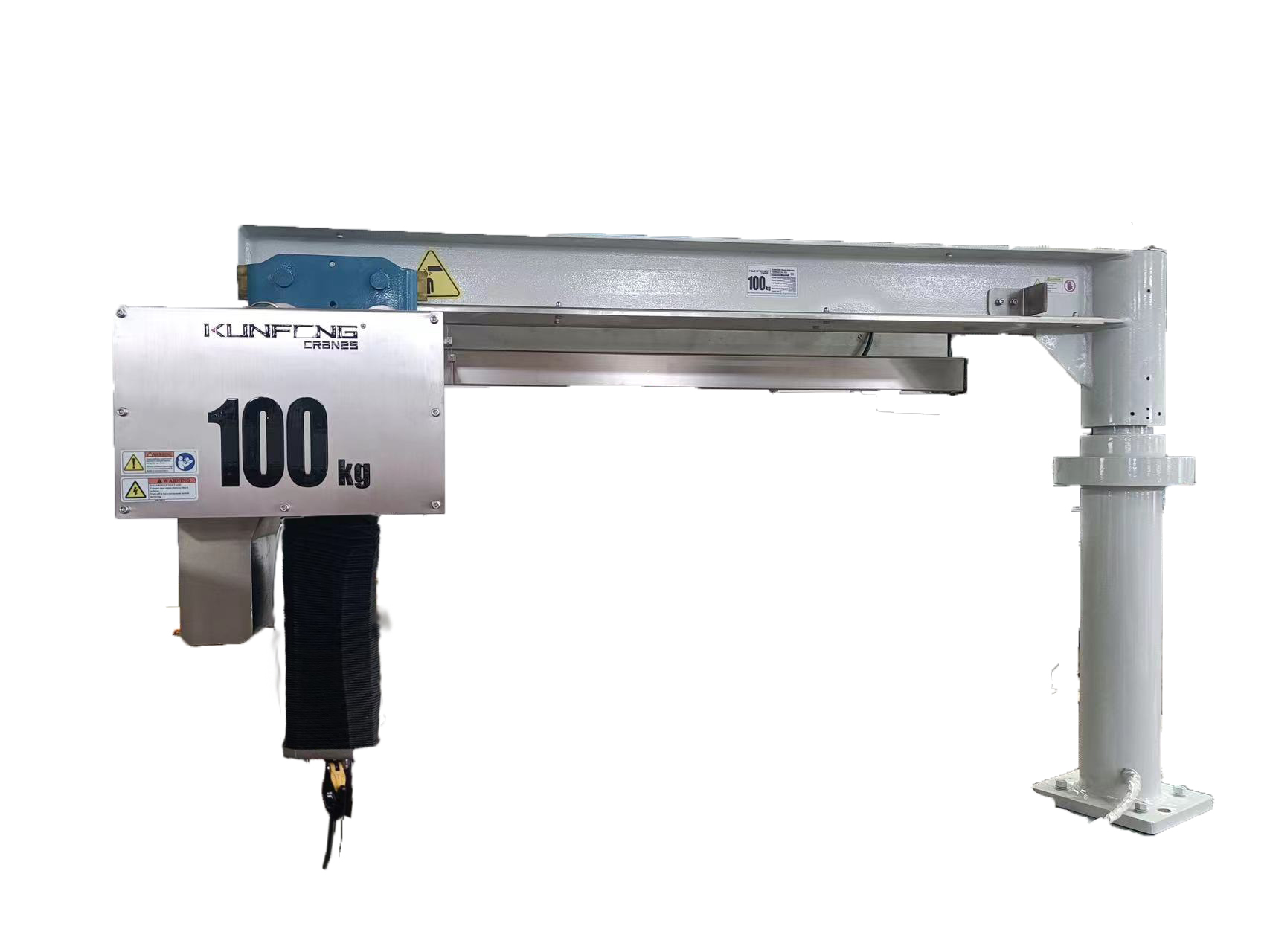 • Optimal Cleanliness
Maintaining cleanliness in cleanroom environments is of utmost importance to prevent contamination and ensure the integrity of sensitive processes and products. The cleanroom Jib Crane is meticulously designed with materials, finishes, and features that promote cleanliness. The stainless steel cover of the jib crane allows for easy cleaning and minimize the risk of particle generation. Its sealed electrical components and dust-free operation further enhance the cleanliness of the cleanroom environment, ensuring reliable and contamination-free lifting operations.
• Versatile and Efficient Performance
The SEMI S2 certified jib Crane offers exceptional versatility and efficiency for a wide range of cleanroom applications. With a maximum lifting capacity of 100kg, it enables the safe and precise handling of various loads. The crane's compact design and 360-degree rotation capabilities provide flexibility in maneuvering within limited spaces. Its smooth and controlled movement, coupled with advanced safety features, ensures efficient material handling operations, contributing to improved productivity and workflow within cleanroom environments.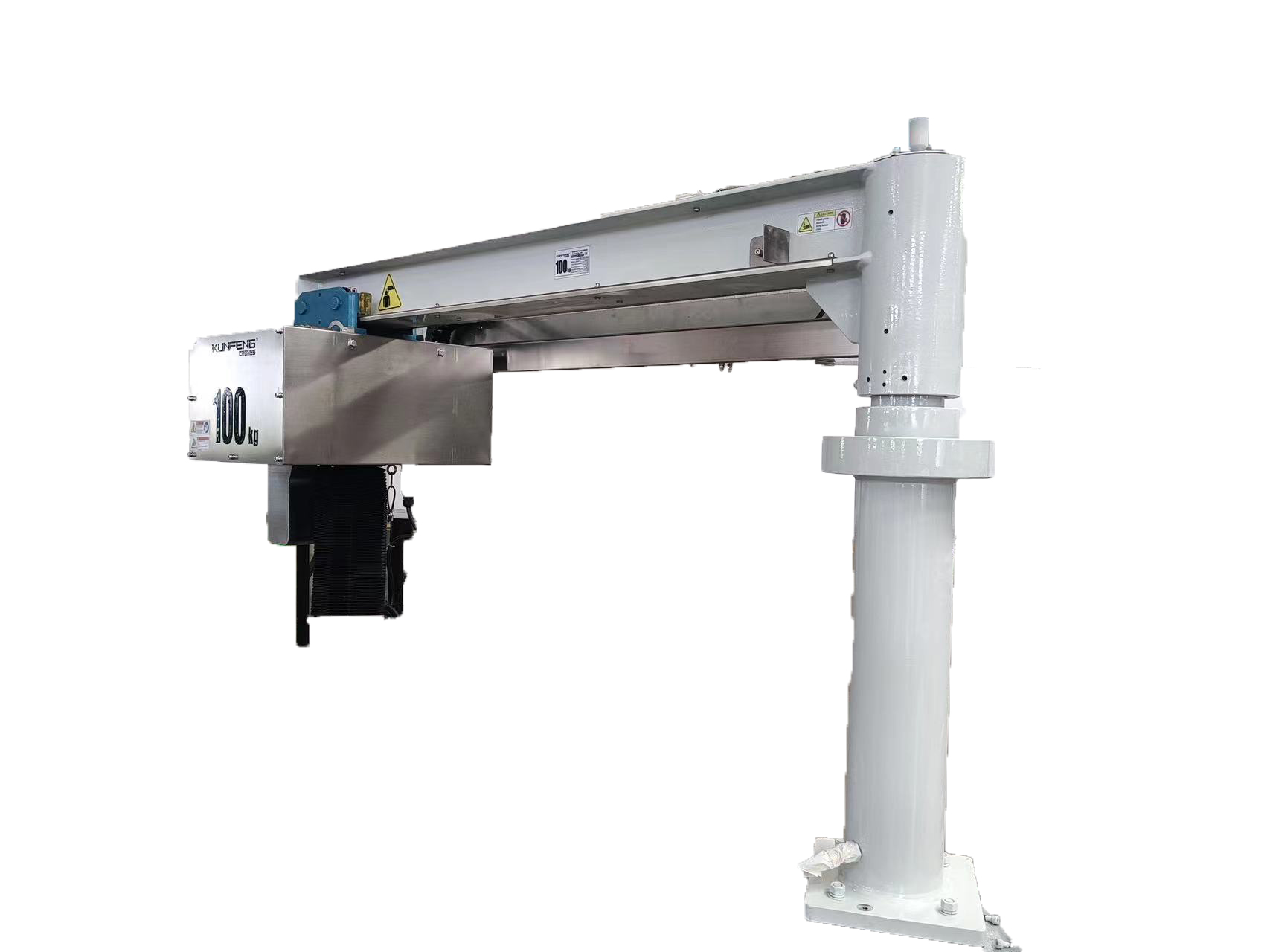 • Tailored to Your Needs
At KUNFENG Cranes, we understand that every cleanroom application is unique. That's why the KF2206071 Jib Crane can be customized to meet your specific requirements. Our engineers can assist you in selecting the optimal crane configuration, including boom length, lifting capacity, and control options, to perfectly align with your cleanroom operations. With our tailored approach, you can be confident that the cleanroom cantilever Crane will seamlessly integrate into your cleanroom environment, maximizing efficiency and productivity.
Conclusion
The Cleanroom Jib Crane (KF2206071), certified by the esteemed TUV organization under the SEMI S2 standard, has an exceptional cleanliness, versatile performance, and customization options make it an indispensable asset for cleanroom operators. Trust in the cleanroom jib crane to enhance your cleanroom operations, ensuring compliance, efficiency, and reliability. Contact KUNFENG Cranes today to learn how this state-of-the-art crane can transform your cleanroom environment.