| Simple mobile gantry crane
Simple mobile gantry crane is manufactured for lifting equipment, loading and unloading of the warehouse, maintaining heavy-duty equipment and transporting materials, applicable for small and medium f
Simple mobile gantry crane
is manufactured for lifting equipment, loading and unloading of the warehouse, maintaining heavy-duty equipment and transporting materials, applicable for small and medium factory. The best advantage of the crane is omni-directional movability, fast to assembly, small volume, can be moved to another are only with a minicar. Capacity is 0.25t-10t, span is 12m. Brake bearing universal wheel can move on the ground, be used together with electric hoist, chain block, monorail trolley, realizing crane mechanization, which can reduce the human power,production costs, and improve work efficiency.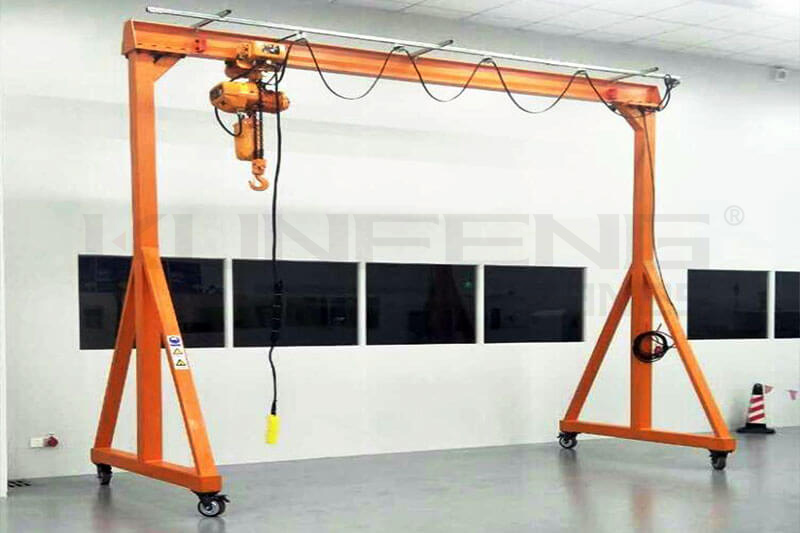 Producton Features
Permanent installation is not required, better price of the rail.
Quick and easy to assembly.
Portable design allows for relocation for use in more than one facility or work area.
Gantry construction adopts standard welding method. All nuts, bolts, and pins are plated for corrosion resistance.
All Gantry Cranes are painted by safety standard paint.
Simple Gantry Crane work efficiently and economically
ADVANTAGES
Because gantry cranes ride on the ground rather than on overhead runways, they don't require a runway structure.
Nor do they usually require concrete foundations.
Their installation is fast and simple.
Depending on the environment and application, gantry cranes can sometimes provide the same material handling capabilities as a comparable bridge crane system, but with a significant cost savings.
Simple and compact structure
Light weight
Steady performance
Easy maintenance