| What Is an Explosion-proof Pneumatic Hoist
Pneumatic hoist, which is also called air hoist, air powered hoist, is a device that uses compressed air to facilitate heavy lifting and handling. Explosion-proof pneumatic hoist is spark resistant
Hoists are an essential tool used in handling, lifting, loading, and moving heavy loads in workshops. Hoists come in three main forms — pneumatic, electric, and manual. Today, let's understand what exactly is a pneumatic hoist.
What's an Explosion-proof Pneumatic Hoist?

A Pneumatic hoist, which is also called an air hoist, air powered hoist, is a device that uses compressed air to facilitate heavy lifting and handling. And air hoists are usually chain hoists and are explosion-proof.
The explosion-proof pneumatic hoist is spark resistant and has NEMA 7 enclosures, pendants, accessories, and explosion-proof motors for operation in Class I environments where flammable gases and vapors are present and Class II environments where combustible dust are present.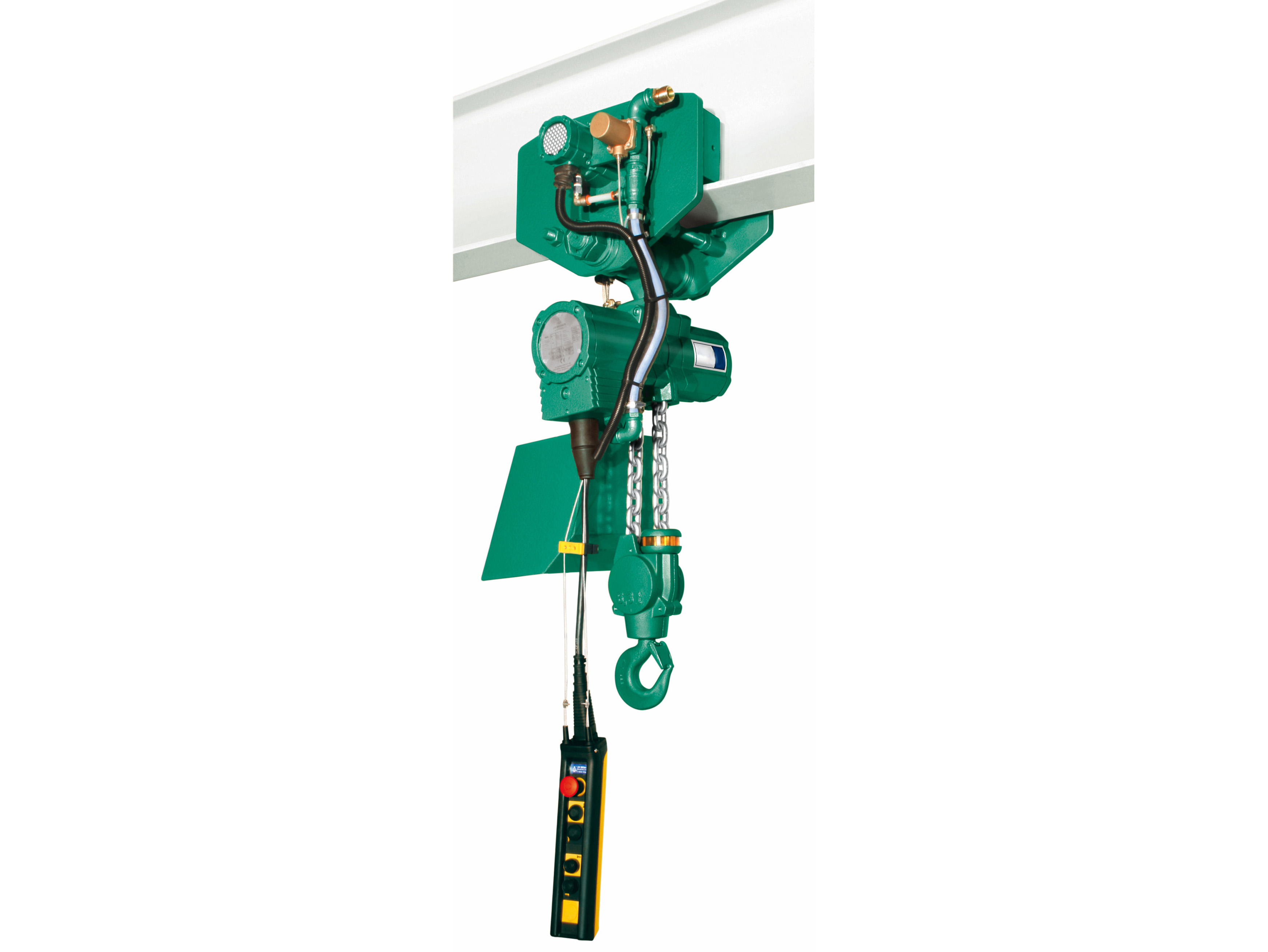 Benefits and advantages of air chain hoist

The pneumatic hoist is powered by compressed air without electric sparks. Even in a relatively harsh working environment, such as a flammable and explosive environment, it will not be affected and the use of an air hoist can still work normally.
• Pneumatic hoists have a 100% duty cycle without any brakes, allowing them ideal for the automation industry.
• Air hoists operate without an electric motor and are typically 40% – 50% lighter than electric hoists. In addition, they are well-suited for chemicals and mines, and unaffected by dirt and dust, heat, steam, heat, and humidity.
• Variable speed making them a good choice for production runs and other applications requiring frequent, fast lifts. Low speeds allow precise positioning; high speeds are for quick lifting.
Why KUNFENG CRANES?

KUNFENG CRANES offers you lightweight pneumatic hoist. They are not only easy to operate and maintain but are extremely useful in high decibel operations and need no lubrication making them an ideal component of your lifting solution.