| Intelligent Overhead Crane for Steel Mill Penetrant Testing
PROBLEMS:As the development of automation, the steel mill are called upon to upgraded their production equipment and gradually achieve self-development. Steel mills aim to deliver high-quality steel p
PROBLEMS:
As the development of automation, the steel mill are called upon to upgraded their production equipment and gradually achieve self-development. Steel mills aim to deliver high-quality steel products that meet industry standards and customer requirements. For the steel mill, a quality steel rod is important. Daye Special Steel mills carry our penetrant testing (PT) as part of their quality content processes to ensure the integrity of their steel products.
Penetrant testing, also known as dye penetrant inspection or liquid penetrant testing, is a non-destructive testing, is a non-destructive method used to detect surface defects, cracks, and discontinuities in various materials. Most commonly applied to metals.
REQUIREMENT:
Based on the process of penetrant test, intelligent overhead crane are able to handle 6 ton loads safely. Meanwhile, because the lifting mechanism is used for penetrant testing handling, the surface of steel rod need to be prevented from abrasion and damage while in handling and moving. So some prevention measures must be taken.
In addition, due to the complex of the working environment, intelligent overhead crane need to achieve automatic work, which help enhance working efficiency and improve safety in the workshop.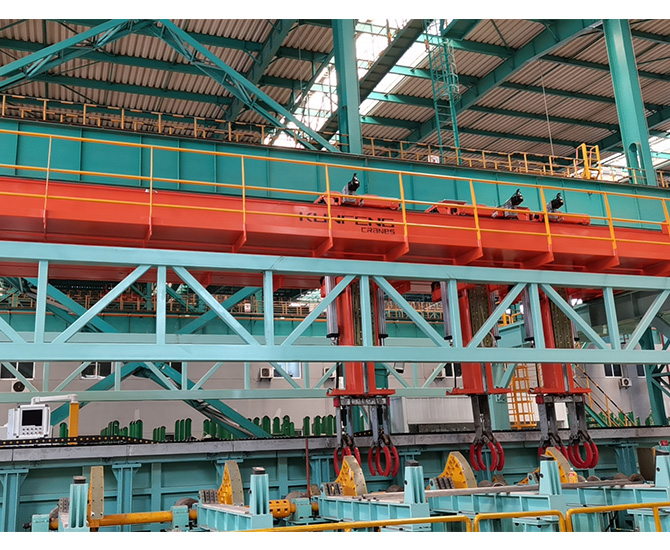 SOLUTION
KUFNENG Cranes mechanical engineers have designed an intelligent operating system to control the overhead crab crane. Equipped with Siemens control system, the stability has been improved greatly. And Siemens controlling system enable automation of complex tasks, reducing manual intervention and increasing productivity.
After several days of discussion and inspection at the construction site, our engineers have determined that the project requires the use of three stainless steel rods for automated handling.
To guarantee stability and functionality, we equip the smart overhead crane with three clamp claws driven by servo motor. The stainless steel lifting mechanism boasts superior waterproof performance and is resistant to rusting. Furthermore, to prevent scratching of the steel bar, the contact inner position of the handling claw will be covered with wear-resistant non-metallic material.
Last but not least, various safety devices are used to ensure the load being lifted. E.g. overload protection, limit switches, safety brakes, warning lights and audible alarms and safety lock devices for mechanical claws in case of accidents and falling of steel rod.
Automatic handling operation in steel mill
Upon receiving the command, the smart overhead crane will execute the penetrant test seamlessly. It will move the crab steel rod and handling rod to the testing area, immerse the steel rod in the penetrant water, and return it to the stock area. This way, the steel test line can work safely without intervention. In addition, the crane speed were designed to 600mm per second. And the positioning accuracy can be controlled within 5mm.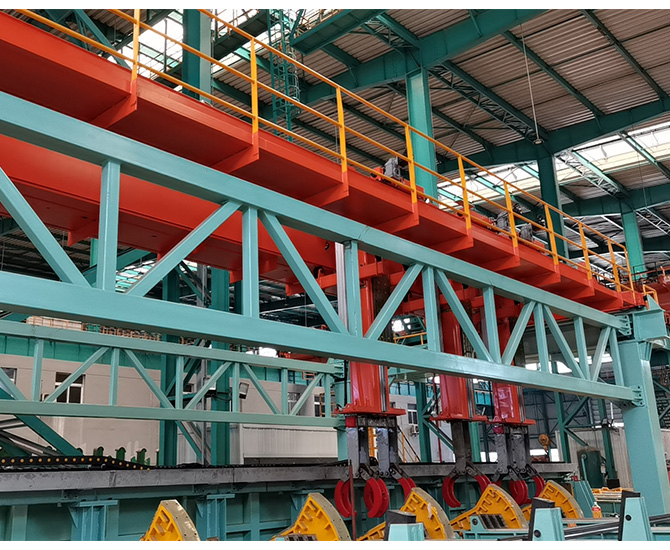 FEEDBACK
After several times adjusting and debugging, the intelligent overhead crane has been put into use safely. With the help of intelligent crab crane, the penetrant test in steel mill is well underway.
Here are some of the key benefits:
• Increased Efficiency: overhead crane with automated system greatly optimize steel penetrant testing processes, leading to improved efficient, minimizing idle time and improving overall workflow.
• Precise and Accurate Operations: Intelligent cranes utilize advanced control systems and sensors to provide precise and accurate positioning and movement of materials. This enables them to handle materials with greater precision, reducing the risk of damage or errors in placement.
• Enhanced Safety: Intelligent cranes are designed with safety features such as collision avoidance systems, load monitoring sensors, and real-time monitoring capabilities. These features help prevent accidents, minimize human errors, and ensure the safe handling of materials, protecting both workers and the materials being moved.
As an ISO 9001:2015 certified organization, KUNFENG Cranes approach every crane component with a well-defined quality management system (QMS). Our QMS involves adhering to ISO 9001 standard, meeting our own organization's requirements, applying your specifications and maintaining documentation throughout development.