| Plastics manufacturer cleanroom crane
Plastics manufacturer cleanroom crane:In workplaces where maintaining high levels of hygiene is important, cleanroom cranes are often an advantageous lifting solution. Maximising headroom for this bes
Plastics manufacturer cleanroom crane
In workplaces where maintaining high levels of hygiene is important,
cleanroom cranes
are often an advantageous lifting solution.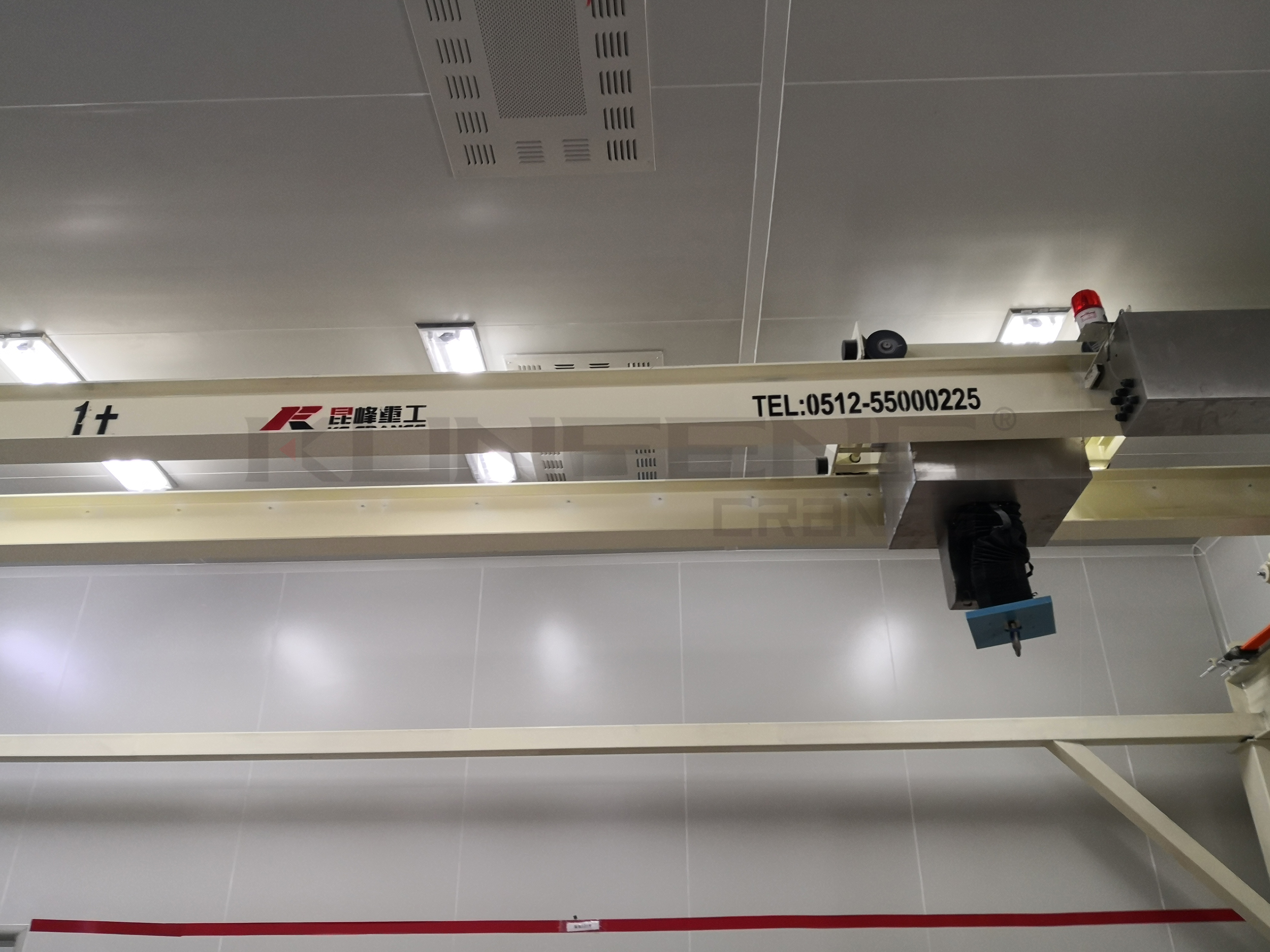 Maximising headroom for this bespoke cleanroom crane
Our client supply a wide range of innovative plastic products for various applications. When developing a new cleanroom at their site, a special crane that offered good standards of cleanliness and hygiene was required.
The crane, which featured a seven metre span, was carefully designed to maximise the available height of lift and as such featured an underslung design and a low headroom construction Verlinde electric wire rope hoist.
We also designed and produced a double run of gantry beams for the crane to run off, complete with splice plates, fixings and a series of hangers to connect these beams to existing supporting steelwork.
KUNFENG hoist, cross travel and crane long travel were all operated via a handheld radio remote control.
Features of cleanroom cranes
When producing cranes for cleanroom environments KUNFENG can provide a series of additional design features:
A reduced number of surfaces and components compared with regular designs
No hidden/internal running surfaces which are difficult to clean
Dry lubricant on hoist chain or rope
Special paint or powder coating
Enclosed conductor system, cable festoon or energy chain system for power feeds
If you're interested in receiving more information or a quotation for a cleanroom crane, get in touch with our team on +86-15366477186 or email sale@kfqizhongji.com.
Clean electric hoist crane is a kind of crane suitable for dust-free environment, such as bioengineering, medical equipment, food, microelectronics, photovoltaic, injection molding, lithium battery, semiconductor and other industries. The use of clean and clean cranes requires more The high production workshop has played a protective role. Some dust-free industries have higher requirements for cleanliness in workshop production. The lifting equipment in the dust-proof workshop of Changchun clean room cranes includes different forms of lifting equipment such as clean cranes, clean cantilever cranes, clean turning machines, clean KBK cranes, clean intelligent cranes, clean mobile gantry cranes!