| Which Material Can be Used for Clean Room Cranes: Stainless Steel vs. Steel vs. Aluminum
Clean rooms are environments that require high levels of cleanliness to ensure products are not contaminated during the manufacturing process. To maintain such high levels of cleanliness, it is import
Clean rooms are environments that require high levels of cleanliness to ensure products are not contaminated during the manufacturing process. To maintain such high levels of cleanliness, it is important to use materials that do not shed particles or contribute to contamination. When selecting materials for a clean room crane, several factors should be considered, including the material's surface finish, ease of cleaning, and resistance to corrosion.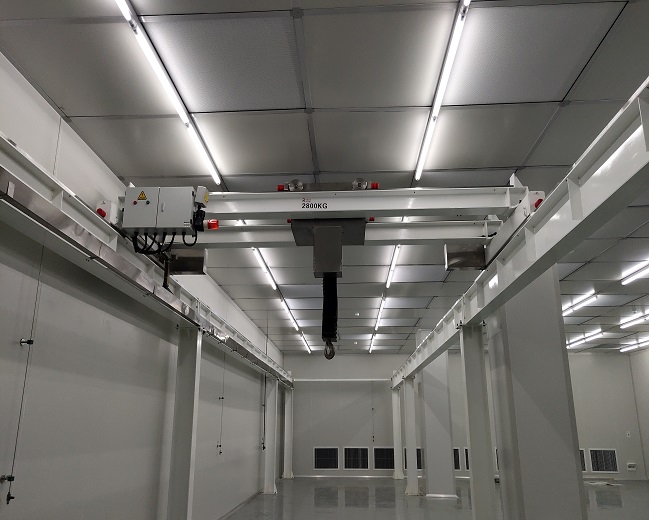 STAINLESS STEEL CRANES is an excellent choice for clean room lifting, because it has a smooth surface finish that resists particle shedding. Stainless steel overhead crane is also resistant to corrosion, making it ideal for environments where moisture is present. Such as in food industry and chemical industry. 304-grade steel and 316-grade steel are the most common materials for clean room cranes. And 316-grade steel is commonly used in the pharmaceutical and medical industry manufacturing environments.
STEEL CRANE is another option for clean room crane, but it is not as desirable as stainless steel. While steel is strong and durable, it has a rougher surface finish than stainless steel, which means that it sheds particles more readily. Additionally, it requires frequent maintenance to prevent corrosion and ensure it remains suitable for use in a clean room environment. So, when the steel structure is used, a stainless-steel cover for hoist and other protection measures will be used for shedding particles.
ALUMINUM WORKSTATION CRANE is a lightweight and durable material that is often used in warehouse loading docks, Process equipment maintenance, Parts assembly and Lighter Loads, which is less than 2 ton. While aluminum is easy to machine and relatively inexpensive, its potential to create contamination makes it unsuitable for use in a clean room environment. A rough surface finish makes it prone to particle shedding, and aluminum is susceptible to corrosion, which can lead to pitting and other surface imperfections that can harbor bacteria and other contaminants.
Environment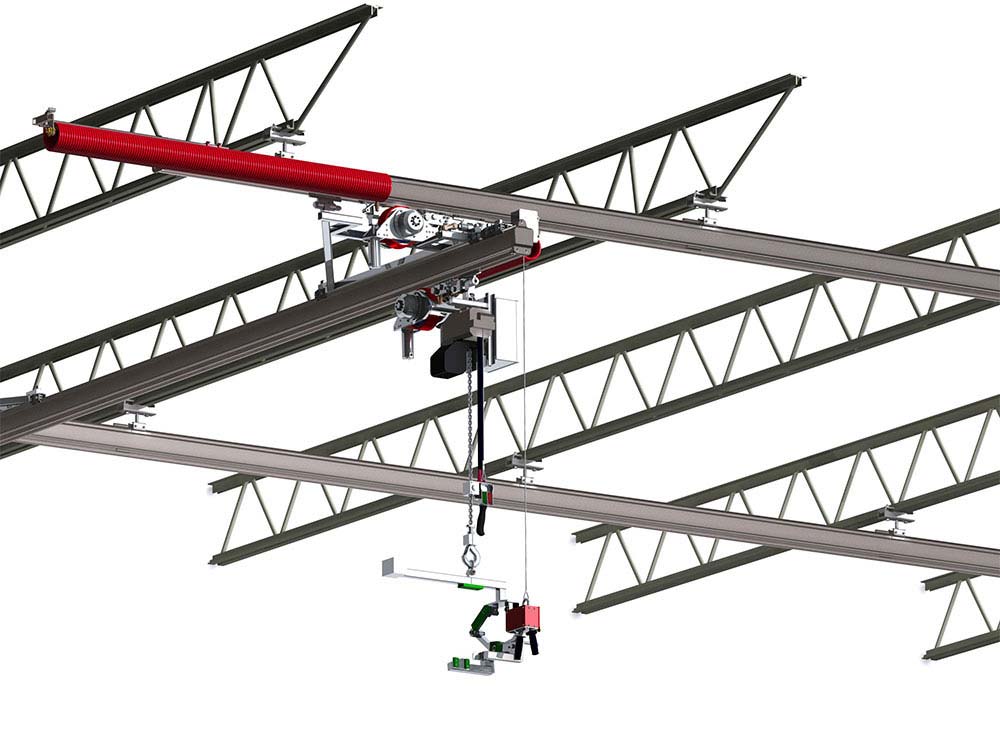 When selecting materials for a clean room crane, it is also important to consider the environment in which the crane will be used. For example, if the crane will be used in a wet environment where liquids can be aggressive, then stainless steel cranes and hoists are the best choice. If the crane will be used in a less critical environment, such as institutes, laboratory and other dry environment, then steel with protection measures may be acceptable. Due to its potential for particle shedding and corrosion, aluminum should generally be avoided to use in clean rooms.
In addition to selecting the appropriate materials for a clean room crane, it is important to follow best practices for maintaining cleanliness. This includes keeping the crane clean and free of debris, using appropriate cleaning agents, and performing regular maintenance to prevent corrosion and other surface imperfections.
Oftentimes, you can choose both steel and stainless steel. Because every material has its advantages and disadvantages. KUNFENG CRANES is a leading cleanroom crane manufacturer in China, specializing in the design and production of high-quality cleanroom cranes and hoists. Contact KUNFENG CRANES to get a professional instruction. We will help you with safe, smooth and efficient operation.