| Overhead cranes designed for the cleanroom environment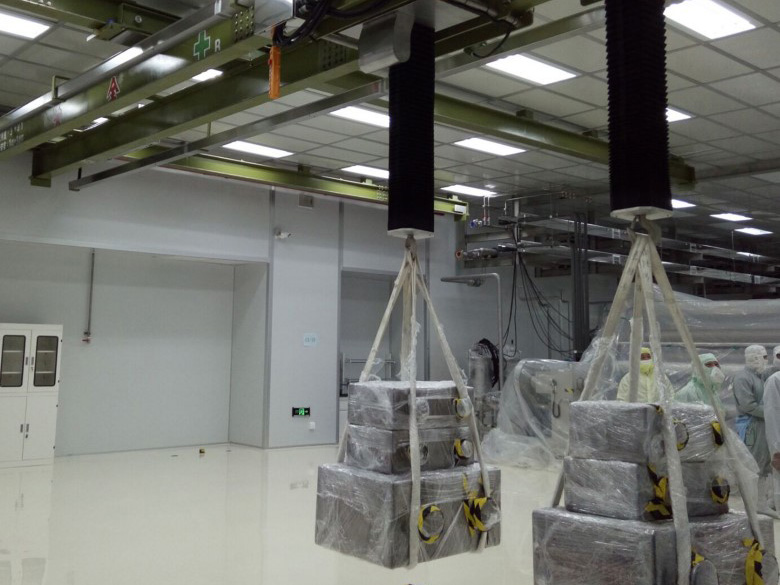 Cleanroom manufacturing is a critical process in industries such as electronics, pharmaceuticals, and biotechnology. These industries require a clean and sterile environment to ensure the quality of their products. Overhead cleanroom cranes are designed to meet the stringent requirements of cleanroom environments. They are made of stainless steel or other non-corrosive materials to prevent contamination. Additionally, they can be equipped with cleanroom-compatible hoists (As the pictures shown) and trolleys to ensure that all components are compatible with the cleanroom environment.
Overhead cranes are used in a variety of cleanroom applications to assist with the handling, positioning and transport of various items. The ability for a crane to reach above an open workstation can simplify the process of retrieving or transporting items like a box of supplies or that last piece you need to complete your assembly. These overhead cranes are designed to be used in an environment where particulate matter and microbiological contaminants may pose a threat to the operator and surrounding area.
KUNFENG CRANES is a leading crane manufacturer in China, known for high-quality products and exceptional customer service. With a focus on innovation and customization, KUNFENG CRANES provides a wide range of lifting solutions for various industries, including pharmaceuticals, biotechnology, and manufacturing. Our cranes are built with the latest technology and materials, ensuring durability and reliability. KUNFENG CRANES' commitment to customer satisfaction has earned us a reputation as a trusted and reliable partner in the crane industry. Choose KUNFENG CRANES for your lifting needs and experience the best in quality and service.