| What is 360 Deg Turning Lifting Beam | Load Turning Device Origin China
What is load turning device?A load turning device is a type of lifting equipment that allows for the rotation of heavy loads in a controlled and safe manner.Load turning devices are manufactured for v
What is load turning device?
A load turning device is a type of lifting equipment that allows for the rotation of heavy loads in a controlled and safe manner. Load turning devices are manufactured for various applications, e.g. for turning machine bodies, ship diesel engines, welded constructions, casting boxes for the foundry industry, etc. In the production operation, the load turning machine sometimes needs to turn some objects 180 deg or 360 deg in order to complete a rotation process.
ADVANTAGES: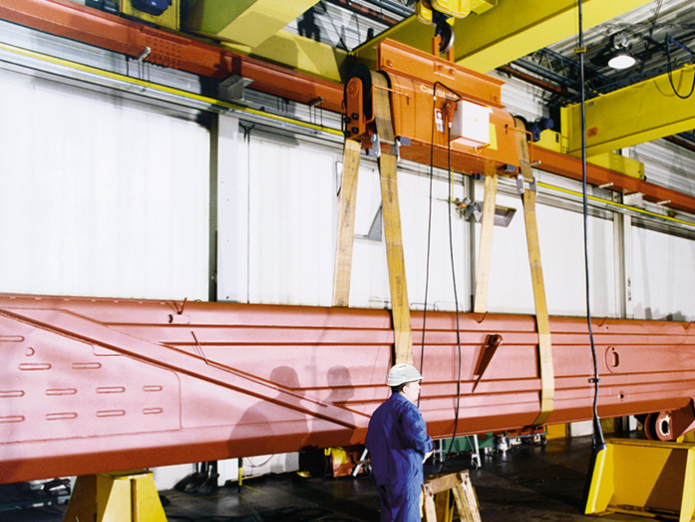 1. The remote control enables safe operation of the load turning device, thereby preventing slipping and reverse rotation of large, special-shaped workpieces when operated from a secure position.

2. Easy to operate, flexible and reliable using. Assisted load turning can be turned at any angle as required, which makes operation easier.
3. Our 360 deg load turning device are light weight and portable. So it can be moved to where the workpiece is and start.
4. Auxiliary grooved wheels and hoisting belts can be replaced for special workpieces, so that there is no trace of hoisting on the flipped workpieces.
5. hangling lifting beams helps improve load turning efficiency and reduce the cost greatly.
6. With load capacity up to 40 ton, hanging load turning device are integrated with overhead crane. When the load turing device is lifted, heavy loads can be turned freely and quickly.
7. Not limited to the length, width, size and shape of the workpiece.
How to Maintain Load Turning Device?
The load turning machine features simple structure, low cost and high working efficiency. Therefore, a regular maintenance on the machine, repairing and replacement to the wearing parts is required. It can not only increase the efficiency, but also increase the service life of the machine. Before using the turning machine, you should pay attention to:
1. Inspect the supplying power before using the turning machine
2. Do not use the machine in the case of bad ground conditions.
3. Do not stack overturned materials around the machine.
4. Turn off the power after using.
5. Press the emergency stop button in case of emergency.
6. Keep the load turning device clean and free from debris. Clean the shell of load turning device after the operation is completed.
7. Inspect the electric control by the manufacturer's personnel.
8. Non-maintenance personnel are not allowed to repair the machine.
9. Regularly maintain the motor of the lifting beam and properly oil the transmission mechanism.
360 Deg Hanging Load Turning Device is widely used in metallurgy, stamping, mould, paper making, refrigeration, steel strip, wire reel, drum material, coil material and other industries. It can adapt to different requirements of goods, provide safe, stable and effective processing transportation.
Compared with rigid chain hanging load turning, which is likely to damage the chassis and accessories, belt load turning device is more gentle and suitable for sensitive goods. Want to know more about hanging load turning device? The classification of load turning crane and working principle of load turning devices. Don't hesitate to contact us!