| Wholesale 1/2/3t Gas Dust Explosion-Proof Electric Chain Hoist
Explosion-proof hoists are specialized lifting systems designed to operate safely in environments that may contain explosive gases or other hazardous materials. It mainly concludes the electric chain
Explosion-proof hoists are specialized lifting systems designed to operate safely in environments that may contain explosive gases or other hazardous materials. It mainly concludes the electric chain hoist, wire rope hoist and pneumatic hoist. These hoists are essential components of many industrial processes, such as oil and gas exploration, chemical manufacturing, and mining operations.
So what makes an explosion-proof hoist? To be classified as explosion-proof, a hoist must meet rigorous safety standards set by organizations such as OSHA and ATEX. These standards require that all electrical components be enclosed in explosion-proof housings that prevent sparks or other sources of ignition from escaping and igniting flammable gases or dust. And mostly, an explosion proof hoist typically use materials that can withstand high temperatures and prevent sparks, such as copper-free aluminum for electrical box, stainless steel or copper alloy for hoist housing. These materials help to prevent ignition sources in hazardous environments where flammable gases, vapors, or dust are present. In addition, the motors, brakes, and other mechanical components of the hoist must also be designed to limit the production of sparks or heat that could ignite explosive gases.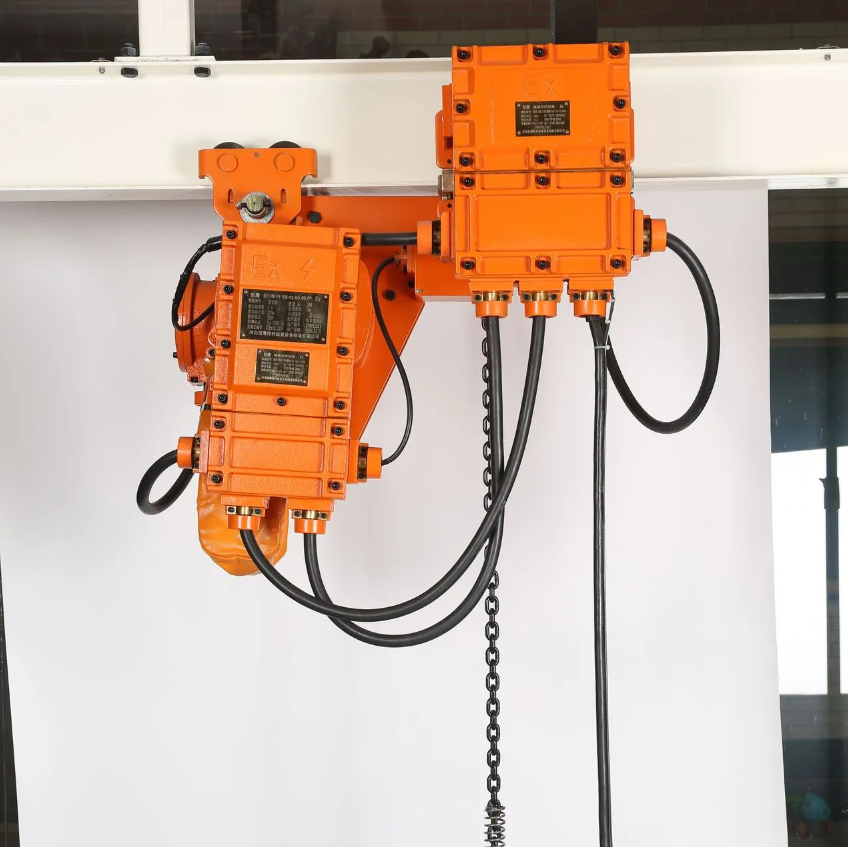 Applications of explosion proof hoists:
Explosion-proof hoists are used in a variety of industries and applications. Some common examples include:
1. Oil and Gas Exploration: Explosion-proof electric hoists are essential components of drilling operations, where they are used to lift heavy equipment and transport materials such as drill pipe and casing.
2. Chemical Manufacturing: Hazardous chemicals and gases are common in chemical manufacturing processes, making stainless steel hoists necessary for safe lifting and transportation of materials.
3. Mining: Underground mining operations frequently involve explosive gases and dust, requiring the use of gas explosion proof hoists to minimize the risk of accidents.
4. Aerospace: The aerospace industry relies on clean room hoists to lift and transport sensitive and hazardous materials, such as rocket fuel and other propellants. Meanwhile, the controlled environment requires no particles materials in operation.
5. Pharmaceutical Manufacturing: Many pharmaceutical products require highly controlled environments free from contamination, making clean room cranes and clean room hoists critical for moving delicate and sensitive materials without risking exposure to harmful substances.
Explosion-proof hoists are specialized lifting systems that play a critical role in many industries where hazardous materials are present. By meeting rigorous safety standards and using non-sparking materials and components, these hoists offer enhanced safety, compliance with regulations, increased efficiency, versatility, and cost savings. From oil and gas exploration to chemical manufacturing and beyond, whether electrical explosion-proof hoists or gas explosion proof hoist are all essential tool for companies operating in hazardous environments.